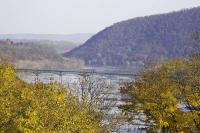 Harpers Ferry Travel Guide
The historic town of Harpers Ferry is the most visited tourist town in West Virginia, welcoming thousands of travellers each year. Located at the junction of the Potomac and Shenandoah Rivers, the town is named after the ferry that landowner Robert Harper established across the Potomac Rover in 1761. The ferry became the marker of the starting point for settlers traversing the Shenandoah Valley and western United States, and the rest, as they say, is history.
Historically, Harpers Ferry is best known for abolitionist John Brown's raid on the Armory in 1859, when he started a liberation movement among enslaved African Americans, at a time when assisting fugitive slaves was illegal. He was eventually tried for treason against the state of Virginia, as well as the murder of five proslavery Southerners, and was hanged.
During the early 1900s, Harpers Ferry was a fashionable weekend getaway destination for high society who came by train from Washington DC and Baltimore. Socialites enjoyed lazy days bowling, picnicking, and relaxing in the scenic country town, while lovers frequently eloped here to be married at the Ferry by the toll-taker, who happened to be a retired parson. Newlyweds traditionally enjoyed their first few days of matrimony in the Hilltop House Hotel, where famous guests such as Mark Twain, Carl Sandburg, and Alexander Graham Bell stayed. But after the depression, the tourist trade in Harpers Ferry faded and by 1944 most of the town became part of the National Park Service.
Today, Harper's Ferry is an outdoor enthusiast's paradise, famed for its national park, which makes up the southern portion of the town, and marks the start or end of many travellers' hike on the Appalachian Trail, one of the most famous hiking trails in the world. Enjoy the dramatic scenery while white-water rafting, canoeing, or inner-tubing along the rivers in the Harpers Ferry National Park; hook a Smallmouth Bass on a fly on the Potomac or Shenandoah River, or even a trout while fishing in the streams of the nearby George Washington National Forest.
Travel Guide powered by Word Travels, copyright ? 2022 Globe Media Ltd. By its very nature information in this travel guide is subject to change at short notice and travellers are urged to verify information on which they're relying with the relevant authorities. Neither Globe Media Ltd nor Ace Travel can accept any responsibility for any loss or inconvenience to any person as a result of information contained above.