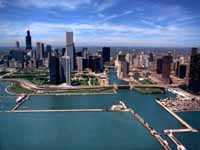 Chicago Travel Guide
Chicago is the major metropolis of America's heartland in northern Illinois. Around three million people live and thrive in the city of skyscrapers that appear to rise straight out of the waters of Lake Michigan. Once a gangster's paradise, home to Al Capone and Bonnie and Clyde, the 'Windy City' today has a reputation as an international business and commercial capital with an eclectic mix of architecture, world-class theatre and art exhibitions, a fantastic local music scene, and thriving sports scene.
Chicago emerged after being destroyed in the Great Fire of 1871 when a large influx of immigrants in the early 20th century infused the city with diversity and the unmistakable sound of Chicago-style blues music. It now boasts soaring skyscrapers like Willis Tower (formerly the Sears Tower), colourful neighbourhoods, a lakefront business district, a re-energised downtown district, unbeatable shopping along the famed Michigan Avenue, and top-class sports teams.
One thing that does not attract visitors to Chicago is the weather; the city's geographical location means it is breezy at best, and freezing and gale-ridden at worst. It is possible to ignore the weather though, especially in summer, while getting caught up in the myriad things to do, see and experience in this Midwestern metropolis.
Travel Guide powered by Word Travels, copyright ? 2022 Globe Media Ltd. By its very nature information in this travel guide is subject to change at short notice and travellers are urged to verify information on which they're relying with the relevant authorities. Neither Globe Media Ltd nor Ace Travel can accept any responsibility for any loss or inconvenience to any person as a result of information contained above.