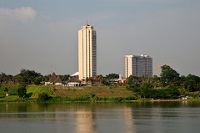 Abidjan Travel Guide
Abidjan was once the proud and flourishing capital city of the Ivory Coast, and a jewel in the continent of Africa's crown; however, years of civil unrest and a lack of maintenance have seen the city slowly move away from the reputation it once held as the 'Paris of West Africa'. For those travelling to Ivory Coast, Abidjan will more than likely be their first introduction to the country.
The city is testament to what the country once was and what it could be again. This is evident in sites such as the Hotel Ivoire, which was constructed in the sixties at the edge of the Ebrie Lagoon. Visitors will relish how the hotel's contemporary architecture, furniture and décor blend French luxury with African charm. Some sites in the city include a popular beach area known as Grand Bassam, the public zoo, a rainforest park in the city called Park du Banco, and Saint Paul's Cathedral.
Otherwise, the destination isn't especially friendly, items aren't cheap and barely anyone speaks English. Still, visitors can expect things to move reasonably fast in this business-minded city, where they'll find designer brands, large supermarkets, fancy restaurants and other modern amenities.
Travel Guide powered by Word Travels, copyright ? 2022 Globe Media Ltd. By its very nature information in this travel guide is subject to change at short notice and travellers are urged to verify information on which they're relying with the relevant authorities. Neither Globe Media Ltd nor Ace Travel can accept any responsibility for any loss or inconvenience to any person as a result of information contained above.