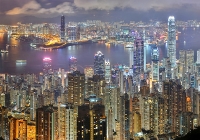 Hong Kong Travel Guide
Proudly proclaiming to be 'Asia's world city', Hong Kong is a unique territory where east meets west. Formerly a subject of British colonial sovereignty, Hong Kong is now a 'Special Administrative Region of China'. Visitors will be immersed in a capitalist utopia of Western ideals punctuated by pockets of traditional culture and architecture. The different regions of the territory provide a surprising diversity of landscapes to explore.
Hong Kong Island is modern and wealthy, backed by Victoria Peak watching over the city. Site of the original British settlement, the island has developed rapidly to form the iconic skyline of the present day. Tourists flock here to experience endless shopping, exotic cuisines, and a truly cosmopolitan culture. In contrast, Kowloon is gritty and chaotic. Extremely densely populated, this former fishing and farming community is actually quite friendly. It may not have the skyscrapers of Hong Kong Island, but it certainly offers the best vantage point, particularly from the modern high-rise bars of Tsim Sha Tsui.
The New Territories, claimed by the British from China in 1898, form a curious mix of of farms, villages, towns and countryside. This region is all about experiencing life in rural Hong Kong. Sai Kung peninsula in particular moves at a slower pace, and is the gateway to the best countryside in Hong Kong.
Most of the 234 Outlying Islands, such as Lantau, are renowned for their beaches. Cheung Chan, formerly the domain of pirates, now hosts windsurfers and sunbathers. Lamma is king for beaches, seafood and hiking. Locals and tourists alike frequent the islands to relax and take a break from the crowds of the city.
Travel Guide powered by Word Travels, copyright ? 2022 Globe Media Ltd. By its very nature information in this travel guide is subject to change at short notice and travellers are urged to verify information on which they're relying with the relevant authorities. Neither Globe Media Ltd nor Ace Travel can accept any responsibility for any loss or inconvenience to any person as a result of information contained above.