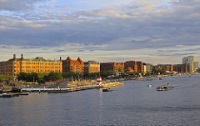 Denmark Travel Guide
Often overlooked by travellers, the kingdom of Denmark is small yet prosperous. It's a thriving country in northern Europe, enjoying some of the highest standards of living in the world as well as containing plenty of interesting attractions and experiences for visitors.
The capital of Copenhagen is lively, occupying the biggest of the offshore islands. Indeed, Denmark is almost totally surrounded by ocean and its terrain is made up of the Jutland Peninsula and approximately 406 islands. The country is compact with an excellent road and rail transport system, in addition to numerous ferry connections to the myriad offshore islands.
With all this water, it's not surprising that Denmark is very reliant on shipping and fishing. The country also has an important agricultural sector and is famed in particular for its dairy products. Lovers of butter and cheese will be sure to enjoy a taste of Denmark.
Denmark has a charming countryside, with small green farms, blue lakes, and white coastal beaches. Thatched cottages, castles, and windmills are sprinkled throughout rural areas and across gentle landscapes perfect for cycle touring.
The cities are modern and bustling, while still retaining a medieval feel preserved in old sections of colourful buildings and cobblestone streets. The most important of the country's 300 museums stand in Copenhagen, while the Viking Ship Museum in Roskilde is devoted to honouring Denmark's bold ancient mariners.
Other notable attractions for travellers include the annual summer music festival in Roskilde, which is one of the largest in Europe; the Tivoli Gardens amusement park which has entertained crowds in Copenhagen since 1843; and one of the world's longest bridges, spanning 10 miles (16km) and joining Denmark to Sweden.
Travel Guide powered by Word Travels, copyright ? 2022 Globe Media Ltd. By its very nature information in this travel guide is subject to change at short notice and travellers are urged to verify information on which they're relying with the relevant authorities. Neither Globe Media Ltd nor Ace Travel can accept any responsibility for any loss or inconvenience to any person as a result of information contained above.