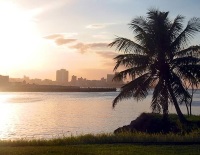 Havana Travel Guide
Situated on the north coast of the island, and built around a natural harbour, Havana ( La Habana) is one of the most lively and colourful cities in the Caribbean. Much of the city's charm can be found among the narrow, derelict streets packed with crumbling buildings and fascinating people. Every open door and overhanging balcony allows glimpses of rocking chairs and colourful washing, accompanied by strains of music. On the streets Chinese-made bicycles, yellow, egg-shaped coco-taxis and two-humped camello(camel) buses weave among the melee of 1950s cars.
The historic old town, Habana Viejaor Colonial Havana, is a UNESCO World Heritage Site, and a major tourist destination. The Spanish left behind some superb colonial architecture, and many of the great buildings and grand plazas are being restored to their former glory, although ironically the general dilapidation of the great buildings of Havana contributes enormously to their charm. Central Havana ( Centro Habana) boasts some of the most important museums and architectural highlights of the city, including the Revolution Museum and the National Capitol, which resembles the US Capitol Building in Washington DC. The trendy suburb of Vedado boasts high-rise buildings and modern hotels, and draws locals and visitors alike with its theatres, art galleries, restaurants, cafes and cabaret shows; however, most of the city's sights are in Habana Viejaand Centro Habana. The five-mile (8km) seawall, or malecón, stretches from Vedado to Habana Vieja, and is lined with architectural gems in various states of dilapidation and restoration.
Havana's nightlife has the potential to challenge even the most seasoned partygoer. After dark, clubs and bars come alive and the famous rum cocktails flow freely. For travellers looking for a break from all this revelry, the lovely beaches are only twenty minutes east of the city.
Travel Guide powered by Word Travels, copyright ? 2022 Globe Media Ltd. By its very nature information in this travel guide is subject to change at short notice and travellers are urged to verify information on which they're relying with the relevant authorities. Neither Globe Media Ltd nor Ace Travel can accept any responsibility for any loss or inconvenience to any person as a result of information contained above.