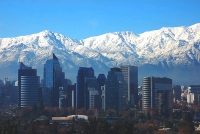 Santiago Travel Guide
The magnificent Andes provide an awesome backdrop for the sprawling Chilean metropolis of Santiago. The population of Chile's capital numbers more than five million but, with its pretty leafy suburbs and well-oiled infrastructure, it is not at all an intimidating city.
Santiago is a curious mix of skyscrapers and 19th-century European architecture, with some Spanish-style bungalows thrown in for good measure. Threaded through this architectural tapestry are numerous green areas, busy markets, and quaint old squares. Street life is vibrant, and adding to the vibe is the presence of numerous chic sidewalk cafes, outside of which traditionally dressed women hawk their wares hoping to catch the eye of the tourists. There are also some impressive museums, great accommodation options for all budgets, excellent restaurants and some good shopping opportunities. The public transport is very good, making getting around in the city centre a pleasure.
Santiago exudes an aura of health and wealth in the inner city and fashionable suburbs, with a distinctly cosmopolitan and first-world atmosphere, but those who explore beyond the thriving centre will find that the glittering skyscrapers slowly give way to shabby shantytowns. The city is also one of the 10 most severely polluted in the world, thanks to its position in a bowl of mountains, which comes as a surprise in a country known for its pristine natural landscapes. Luckily, air pollution is only likely to be a problem in Santiago in the winter months, peaking between May and August, and the city tends to be beautifully clear in the sunny summers.
Santiago is an excellent base for exploring the Central Valley of Chile, with the lovely wine country on its doorstep and the artistic port city of Valparaiso a short drive away. National parks and even ski slopes are also within easy reach. Visitors may find, however, that the delights of the city itself make them loathe to leave.
Travel Guide powered by Word Travels, copyright ? 2022 Globe Media Ltd. By its very nature information in this travel guide is subject to change at short notice and travellers are urged to verify information on which they're relying with the relevant authorities. Neither Globe Media Ltd nor Ace Travel can accept any responsibility for any loss or inconvenience to any person as a result of information contained above.